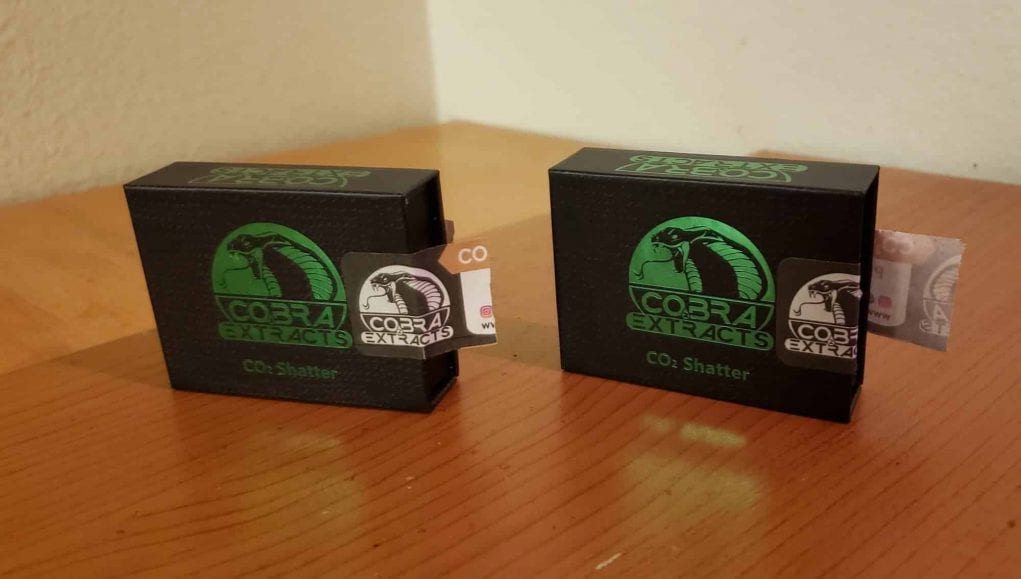 Cobra Extracts Shatter Review: Great Taste and Decent Strength
REVIEW OVERVIEW
Extract Quality8
Strength7
Effect7.5
Taste9
Smoothness8
Value8
SUMMARYCobra Extracts shatter closely resembles their other concentrates in great flavor but low THC content. The consistency and color are appealing and the vapor is not harsh. For a price that's half of what many premium shatters ask, Cobra Extracts offers good value.
7.9OVERALL SCORE
Cobra Extracts shatter offers the same bold flavor and solventless extracts as all of their other products. Not known for super high levels of THC, the shatter does deliver a stronger effect than the crumble. Scroll on down to the video and continue reading our entire Cobra Extracts shatter review.
Pros:
Solventless Concentrate
Hardy, True To Strain Flavor
Extremely Clear & Bright Colored Shatter
Better Than Average Consistency
Good Pricing
Cons:
Average Levels Of THC
Effects Aren't Long Lasting
Recommendations: Bring up the levels of THC for a stronger, longer lasting effect. List the levels of THC on each package and aim for a glass-like consistency.
Licensing Information: Adult-Use Mfg. CDPH-T00001713 Distributor C11-18-0000340-TEMP Medical Mfg. CDPH-T00001713
Cobra Extracts shatter resembles their other products but is more potent than their crumble
By the description on their own website, Cobra Extracts products all share common traits. They are made using a solventless CO2 extraction process using only pure, all-natural cannabis. Bold, true to strain flavors are a result of this process and a quality all Cobra Extracts concentrates share.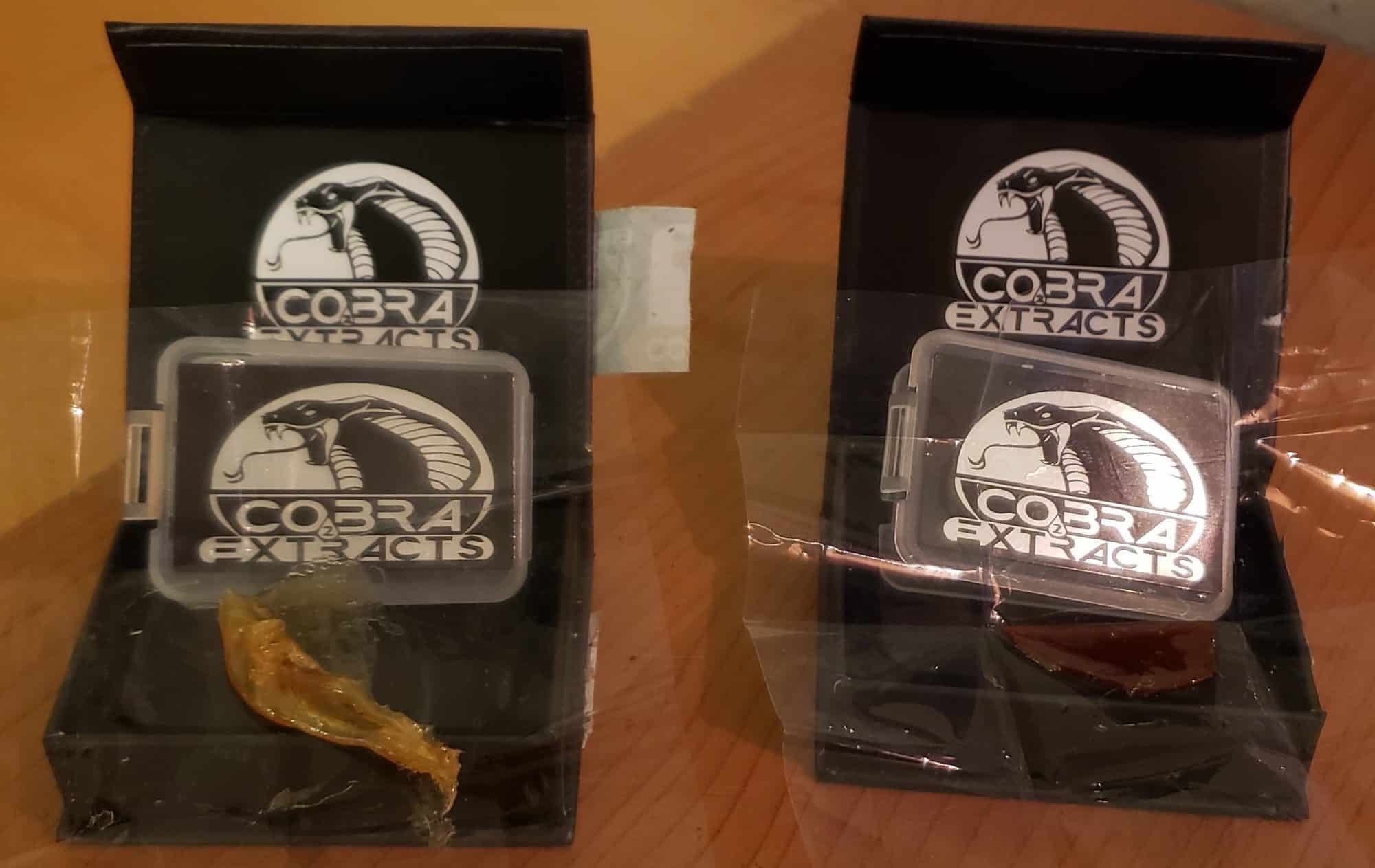 After trying their cartridges, shatter, and crumble, the strength of the shatter lies in the middle. Their cartridges seem to deliver the most euphoric effect with crumble bringing up the rear.
The quality of the shatter is almost stable
Cobra Extracts shatter doesn't have the kind of consistency that snaps in half like we found on the Cannavative shatter. It probably would if you put it in the freezer, but it isn't warm where I have it right now either. The shatter is stable enough that you have to really work it on your dab tool. It will snap off the main chunk with a quick tug.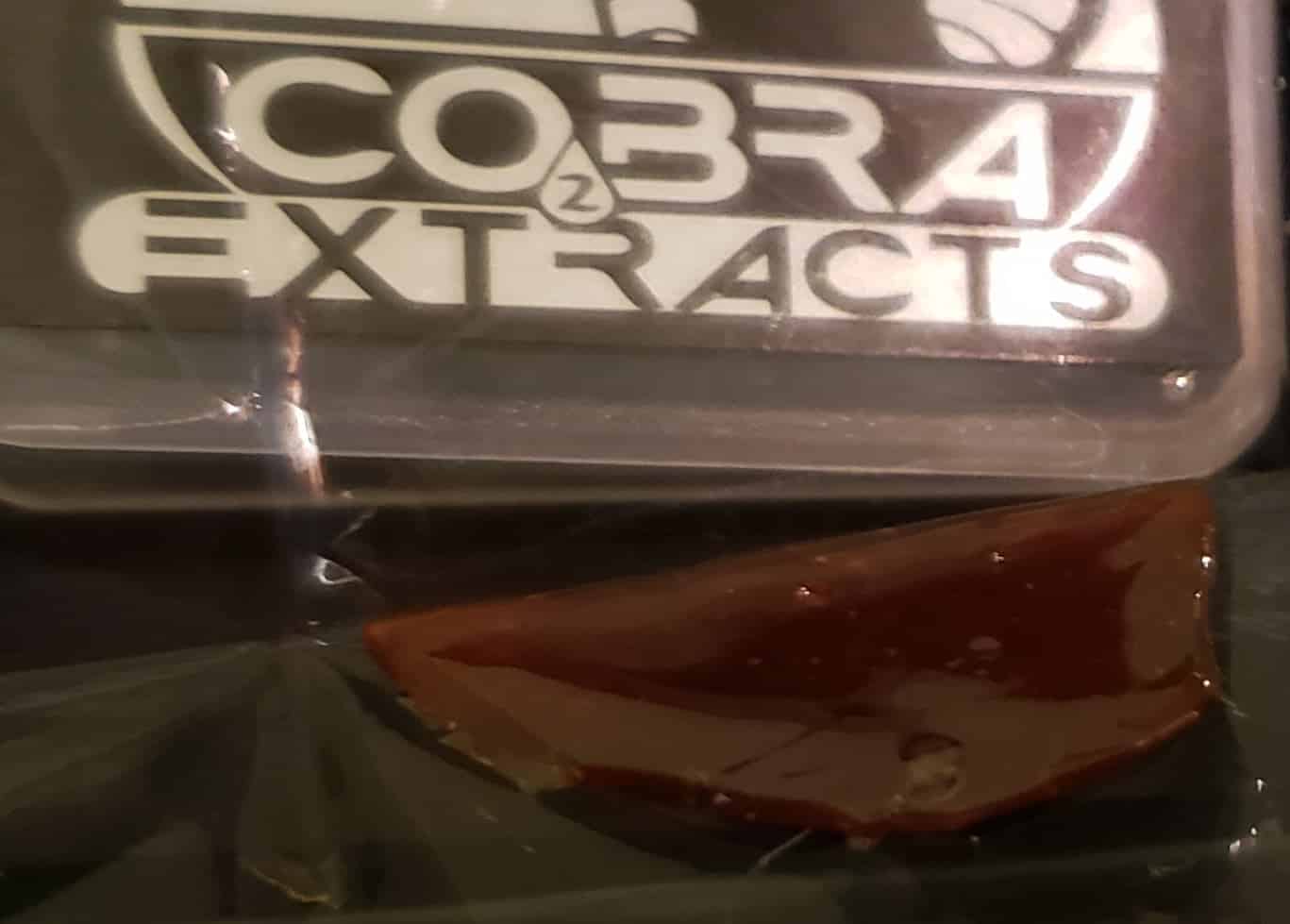 Although Cobra Extracts shatter isn't like a sheet of glass, it has superb color. You can see right through the yellow Mimosa and the rust-orange Pie Hole. Low-quality shatter is dark and you can barely see through it when you hold it up to the light.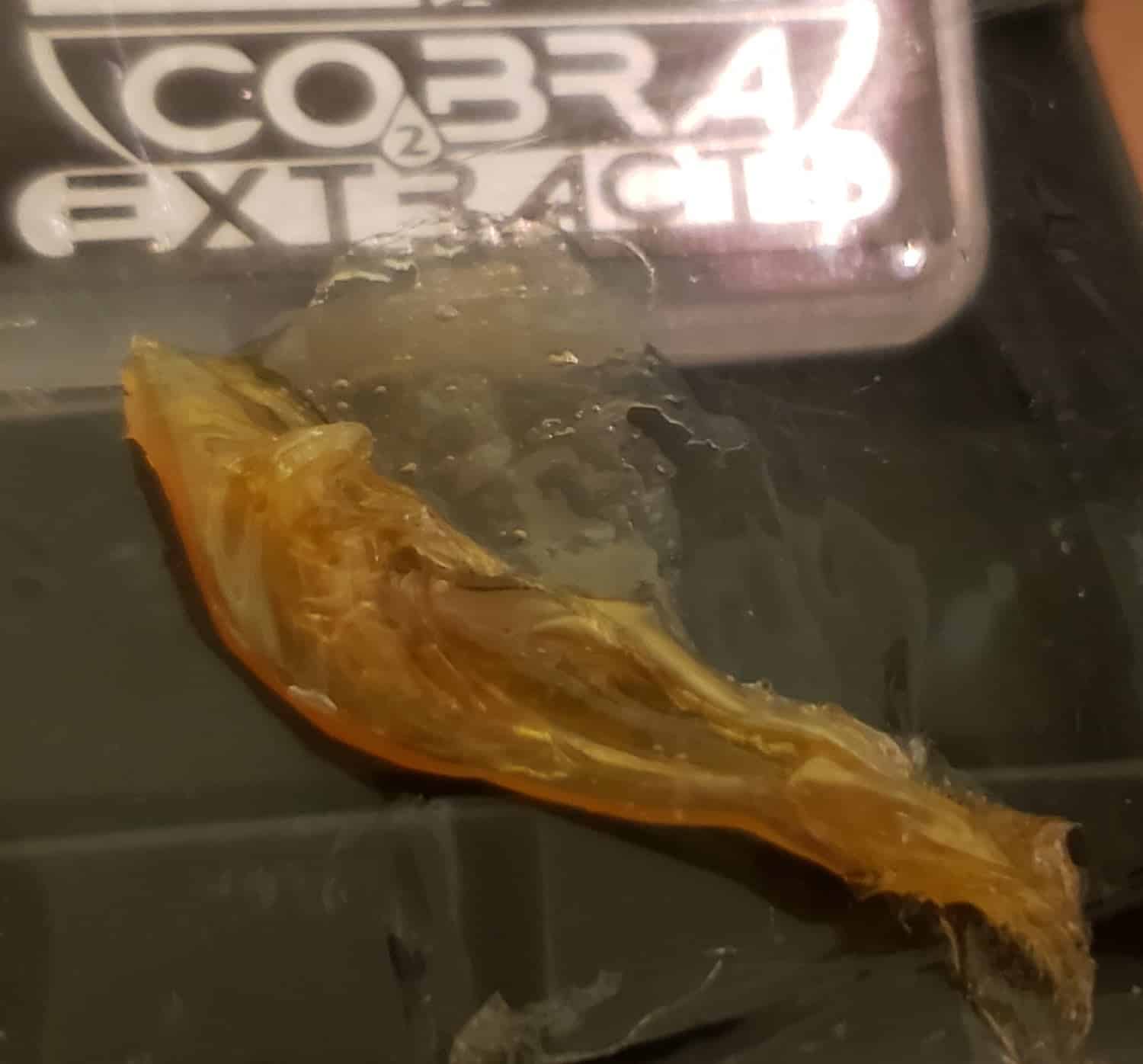 Cobra Extracts shatter is stronger than the crumble but still has average levels of THC
Nowhere on the label or on the company website does it give the levels of THC for anything other than the cartridges. Based on effect, it seems the cartridges seem to have the most THC. The shatter comes close if it's not the same, and the crumble follows the three.
Cobra Extracts claims their cartridges contains levels of THC between 65-75%, but there is no information on the THC levels in the shatter or crumble. In my opinion, medium to low THC shatter misses the point. If I'm going to take a dab, the stronger the better. That doesn't mean that people out there might not appreciate a dab that doesn't blast you. Some may prefer it to be not so strong.
The effects are in line with mid-level THC shatter – strong but it wears off quickly
Load a medium size dab in your e-rig or on your dab tool and it'll get you hacking. The strongest of the effects set in after a minute or two, but it'd be nice if they lasted longer. You'll find yourself pleasantly surprised but after 30 minutes to an hour the effects seem to wear off.
Bold & true to strain flavors are the highlight of Cobra Extracts shatter
This feature is true with all Cobra carts products. Strong, true to strain flavors are a result of the indoor crops and CO2 extraction technique. I can't place the Pie Hole and only find info about the Pie Hoe strain. Pie Hoe is a Grape Pie and Tahoe OG cross, but I mainly taste a fruity orange flavor. The Mimosa tastes like the crumble with strong bursts of lemon.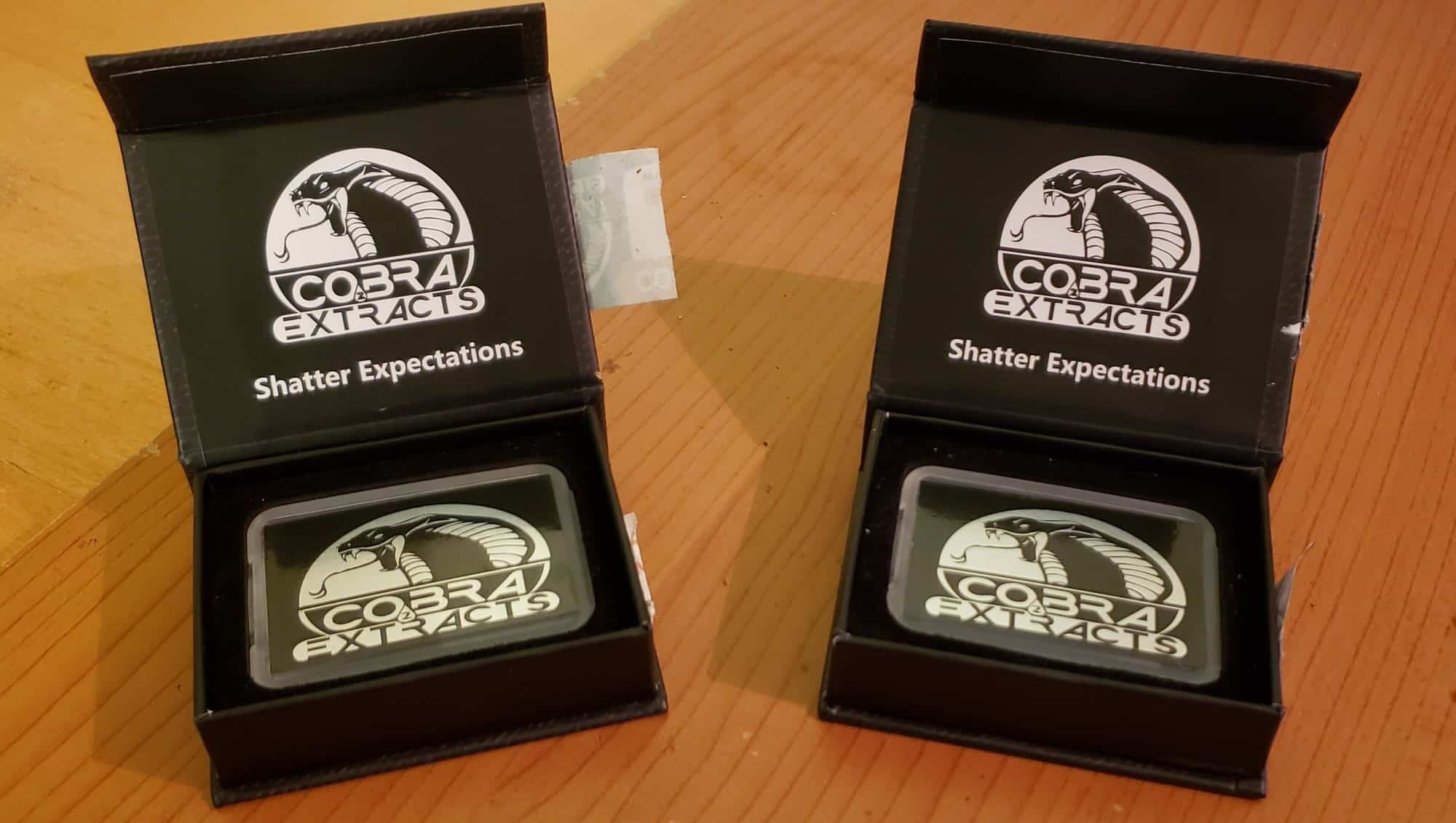 Perhaps it vaporizes at a lower temperature, but the crumble is smoother than the shatter. Cobra Extract products have an easy vaping quality in general. A look at the clear purity of the shatter and it's not surprising. The crumble has that same pure quality appearance and the cartridge oil is honey gold.
Because of a low price, the shatter has good value
With most 1-gram units running in the $40 – $50 range, Cobra Extracts shatter has pretty good value. To think that a premium half-gram of shatter will cost that same amount, it's not a bad purchase. You might use it as a reserve, for the great flavor, or when you're not looking to get completely wrecked. To find their products you can follow them on Weedmaps here.
Final shattering thoughts
The next time you see Cobra Extracts shatter in a dispensary, you might try it for yourself. You don't have to worry about additives or pesticides as all batches are tested. Their flavors are much more intense than the effects, but they still deliver a punch. The shatter is definitely worth a go at a low price. You can learn more about Cobra Extracts by visiting their website here.